We are a fully Licensed, Bonded, & Insured pool table restoration shop that services a large portion of Northern & Central Illinois, Northern Indiana, & Southern Wisconsin. Our services include Pool Table Assembly, Moving, Disassembly, Repair, Re-felt, Cushion Replacement, and everything in between. We also specialize in Rare, Custom, and Antique Pool Table Service & Restoration. Read on below if you are interested in learning a little more About Us, the work that our company performs, and why it is so important to have a qualified professional pool table technician handle the maintenance, recovery, & relocation of your investment. If you would rather get down to business right away, then check out our Services & Pricing & Contact Us pages to get started on a fair and competitive quote for the work that you need done. Otherwise, please take a look around on our website at all of the different information that is available about pool tables and the services they may require. Thanks again for your interest in our services and we look forward to hearing from you soon.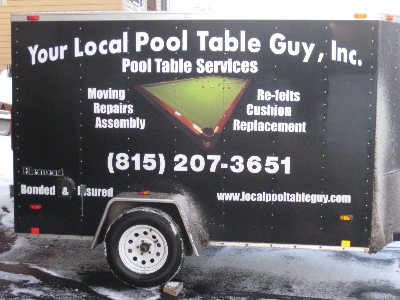 Thanks again for your interest in my company's services. My name is Matt Petrowsky and I am the owner/operator of Your Local Pool Table Guy, Inc. I have been servicing, building, and restoring pool tables in the Chicagoland Area and it's suburbs for more than 15 years. I have worked on everything from Antique Snooker tables built in the late 1800's to the high end Victorian Billiards tables of the early 20th century, along with Brunswick's infamous Gold Crown designs that originated in the 1960's all the way up to the most modern & high tech pool table models of today. Over the years, I have built up many long lasting business relationships performing repeat work for general contractors, flooring companies, retirement communities, insurance companies, universities, restoration contractors, commercial businesses, and professional movers.

I find that sometimes people mistake their pool table for just another piece of large, heavy furniture. They figure that they can just disassemble and reassemble it themselves or get a couple of the guys together to lift it up and move it to a new location. Unfortunately they don't take into consideration the fact that the pool table was delivered and built piece by piece by a trained installer and in order to do anything such as relocate, recover, or repair it, the pool table must be taken apart and put back together in the same fashion. Even if you are only lifting the pool table up a little bit to either level it or move it over a few feet, you could likely be doing irreparable damage to the frame, slate, and hardware of the table.

Recovering a pool table is also an extremely difficult procedure, especially if you have not done it many times before. The felt must be stretched in a specific way across the table top and cut in around the pocketed areas in order to get a tight, wrinkle free playing surface and properly wrapped pockets. As for the re-felting of the rails, I honestly consider it a bit of an art form. The way that the felt must be tucked, wrapped around the rail with just the right pressure, and stapled to the underside is definitely a skill that is difficult to master, especially at the corners of the cushions where there is a specific trick to getting the felt around the different angles of the edges.

Believe it or not, this is only the beginning. There is still the leveling of the individual pieces of slate, the filling and smoothing of the seams between the pieces of slate, the proper alignment and angling of the rails and pockets, and much more. After all of the money you put into the purchase and installation of your pool table, don't let just anyone handle your investment. My company is fully licensed, bonded, & insured and offers a wide range of pool table services to fit your needs. Contact me now at 815-207-3651 and we will be happy to assist you with your next purchase or answer questions you may have about the great services we offer. Remember, whether you need your pool table built, moved, or repaired, I am your guy . . . . . Your Local Pool Table Guy!


As stated above, our company services a large portion of Northern Illinois, Northwest Indiana, and Southeast Wisconsin including: Addison, Albany Park, Algonquin, Almora, Alsip, Antioch, Arlington Heights, Aurora, Bannockburn, Barrington, Barrington Hills, Bartlet, Batavia, Beecher, Bellwood, Belvidere, Bensonville, Berwyn Buffalo Grove, Blackberry Woods, Bloomington, Blue Island, Bolingbrook, Boulder Hill, Bourbanais, Bradley, Braidwood, Bridgeview, Brighton Park, Brookfield, Burbank, Burlington, Burr Ridge, Calumet, Calumet City, Calumet Park, Campton Hills, Carpentersville, Cary, Caton Farm, Cedar Lake, Champaign, Channahon, Charter Grove, Cherry Valley, Chesterton, Chicago, Chicago Heights, Chicago Ridge, Cicero, Clarke City, Coal City, Country Club Hills, Cortland, Countryside, Creston, Crete, Crown Point, Crystal Lake, Custer Park, Darien, Davis Juction, Dayton, Deerfield, Dekalb, Des Plaines, Diamond Lake, Dolton, Downers Grove, Dundee, Dwight, Dyer, Earlville, East Chicago, Edgewater, Elburn, Elgin, Elk Grove Village, Elmhurst, Elmwood Park, Elwood, Elva, Evanston, Evergreen Park, Faidale, Floosmor, Fox Lake, Fox River Grove, Frankfort, Frankfort Square, Franklin Park, Frontenac, Gardner, Gary, Geneva, Genoa, Gilberts, Glacier Park, Glencoe, Glen Ellyn, Glenwood, Glenview, Grandwood Park, Grant Park, Grayslake, Griffith, Gurnee, Hammond, Hampshire, Hanover Park, Harding, Harvard, Harwood Heights, Hawthorn Woods, Hazelcrest, Hebron, Hickory Hills, Highland, Highland Park, Highwood, Hillside, Hinckley, Hinsdale, Hobart, Hodgkins Hoffman Estates, Homer Glen, Homewood, Huntley, Indian Head Park, Inverness, Island Lake, Itasca, Ivanhoe, Joliet, Justice, Kankakee, Kenosha, Kildeer, Kingston, Kirkland, Knollwood, La Grange, La Porte, La Salle, Lafox, Lake Barrington, Lake Bluff, Lake Forest, Lake in the Hills, Lake Station, Lake Villa, Lake Zurich, Lakemoor, Lakewood, Lansing, Lee, Leland, Lemont, Libertyville, Lincolnwood, Lindenhurst, Lisben, Lisle, Lockport, Lombard, Long Grove, Loves Park, Lowell, Lynwood, Malta, Manhattan, Manteno, Marengo, Marseilles, Matteson, Maywood, Mazon, McCullen Lake, McGirr, McHenry, Melrose Park, Meredith, Merrilville, Michigan City, Middlebury, Midlothian, Minooka, Mokena, Momonce, Monee, Monroe Center, Morris, Morton Grove, Mount Prospect, Mundelein, Munster, Naperville, Nettle Creek, New Lenox, Newark, Niles, North Aurora, North Barrington, North Chicago, North Plato, North Utica, Northbrook, Northfield, Oak Brook, Oak Forest, Oak Lawn, Oak Park, Oakton, Oakwood Hills, Odell, Oglesby, Orland Hills, Orland Park, Oswego, Ottawa, Palatine, Palos Heights, Palos Hills, Park City, Park Forest, Park Ridge, Peotone, Peru, Pingree Grove, Plainfield, Plano, Plato Center, Platville, Plymoth, Pontiac, Poplar Grove, Port Barrington, Portage, Preston Heights, Prospect Heights, Rantoul, Richardson, Richton Park, Riverwoods, Rochelle, Rockdale, Rockford, Rolling Meadows, Rolo, Romeoville, Roscoe, Roselle, Round Lake, Round Lake Beach, Sandwich, Saratoga, Sauk Village, Schaumburg, Schereville, Schiller Park, Seneca, Shabbona, Sheridan, Shorewood, Skokie, Somonauk, South Barrington, South Bend, South Elgin, South Haven, South Holland, Spaulding, Spring Grove, Spring Valley, St. Charles, St. John, Staples Corner, Starks, Stickney, Stockdale, Streamwood, Streator, Sugar Grove, Summit, Sycamore, Sylvan Lake, Tinley Park, Tower Lakes, Udina, University Park, Valparasio, Vernon Hills, Verona, Villa Park, Volina, Wadsworth, Warrenville, Waterman, Wauconda, Waukegan, Wayne, Wayne Center, Wedron, West Chicago, Westville, Wheeling, Wilmington, Winfield, Wonder Lake, Wood Dale, Woodridge, Woodstock, Yorkville, Youngsdale, Zion. We also service a large portion of the following Counties: Boone, Champaign, Cook, Dekalb, DuPage, Ford, Grundy, Iroquois, Jasper, Kane, Kendall, La Porte, La Salle, Lake (IL), Lake (IN), Lee, Livingston, Marshall, McHenry, McLean, Newton, Ogle, Porter, St. Joseph, Starke, Will, Winnebago.